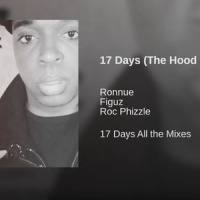 Ronnue ft. Figuz & Roc Phizzle release 17 days (The Hood Mix) with Musik Radio Promotions Worldwide. Charting in the top 10 On Euro Indie Music!
"Y'all I was stoked when I opened my FB and saw that I was tagged in the post about the Euro chart. Besides that, I joined a record pool last week and today I found out that I am #98 out of 4000+. I'm # 1 in Japan Reverbnation chart and #10 in my hometown of Seattle Reverbnation chart.    I want to truly thank you for all your hard work. It seems like people are digging my work! This is only the beginning.".. Ronnue
Some artists are interested in following fashion but the most interesting ones are those who set it, those who beat new pathways through potential musical landscapes. Ronnue and his cohorts, Figuz and Roc Phizzle definitely fall into the latter category. Having started his career producing artists in both Atlanta and Seattle, Ronnue found that he was becoming dissatisfied with the current state of music and so began to look back to classic sounds from the seventies to the nineties to find a way forward.
His debut album "Introduction to Retro Funk" tips its hat to those earlier pioneers but also wraps those sounds around cutting edge, ultra-modern beats to create a sort of progressive, urban pop sound. He takes slow burning hip-hop grooves, sultry and understated R&B vibes and an alternative pop attitude, one which mixes soulful melody with effortlessly cool underground sass.
The result is a song with room to breathe, lyrics which are framed rather than fighting to be heard and there is room for some sweet piano lines to weave through the center ground and this room to let all these musical ideas co-exist is what really takes this song over the line. And even though there is a wonderful familiarity to the song, 17 Days (The Hood Mix) does feel like a first, a bold first step forward, a post-genre style that pushes beyond the rules and regulations, ignores the fickle finger of fashion and has no time for musical guardians and narrow-minded pedants telling it what the rules say.
Ronnue and the gang are a new breed, artists willing to step over the old generic demarcations, jump the old tribal barriers and create new musical mixes, ones that take in hip-hop and pop, R&B and chilled dance, and anything else that they find useful on their creative journey. Not only great music but music which really feels like the start of a new chapter.