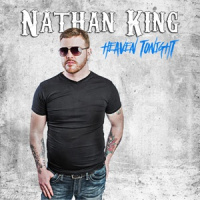 Nathan King's, Heaven Tonight, explodes on the airwaves with its blend of country sensibility and rock muscle, being released worldwide by Musik Radio Promotions.
West Virginian and multi-instrumentalist, Nathan King, called on all of his skills on guitar, bass, banjo, keyboards and vocals to fashion his album and the songs themselves are small-town tales of life, love and longing and the places and characters in the songs seem to have one foot in folklore and the other in obscurity. It is as if Nathan is reminding us that we can all write our own mythologies, all be the heroes of our own stories and these stories are happening to us all the time, they just need to be collected. And that is what he has done here.
Sometimes it is when you get back to your roots that you find your real voice and so it was that after traveling down hard rock pathways and through heavy metal landscapes that multi-instrumentalist, Nathan King, was drawn back to a simpler type of music. Splicing a country groove with pop accessibility, Americana vibes with roots-rock drive, Nathan found that with a more honest, more straightforward musical approach, he could actually communicate better through his music.
Heaven Tonight, from the debut album of the same name, takes a blend of country sensibility and rock muscle to build a song which will not only please the Music City purists but which also has the infectiousness and sonic appeal that could see it tap into a much wider audience. And whilst it feels like very familiar territory, it also feels like a classic right from the first play through its simple but effective hooks, addictive chorus, clean but impressive guitar lines, rock-driven urgency and groovesome country vibe. Attention to detail and a less is more approach, it would seem, is the magic ingredient here and it is sure to connect with both the mainstream music fan and the more discerning tastemakers.