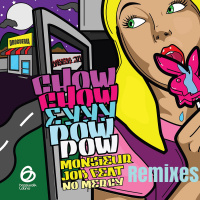 Musik Radio Promotions is thrilled to present Monsieur Job's staggering first release; "Chow Chow Eyyy Pow Pow" to worldwide radio! This project created and led by Basswalk Latino's executive head; Jose Fernando Holguin is surely to take its wings to the masses.
That the post-genre world is a place that affords musical freedom like at no other time in musical history is in little doubt. Technology has meant that geography and distance are no longer obstacles, the cost of equipment isn't prohibitive to music making and modern attitudes have done away with the strict demarcations of musical genres and their tribal allegiances. Monsieur Job is the perfect example of a band who fit into this new creative attitude. Chow Chow Eyyy Pow Pow is the debut from the project, which is made up of musicians from both Colombia and Bulgaria, and here the vocals are provided by Martin Cintron known for being the singer and guitarist with nineties Euro-pop favorites, No Mercy.
And musically too this is a wonderfully eclectic piece, a deft blend of slick urban beats and Latin grooves, Old World clubland electronica meets New World sensual and organic spice. It is both chilled and groovesome, hypnotic and memorable and is also a versatile dance floor beast, serving the early evening build up, the midnight high point and the afterhours chill out in equal measure through its clever mixture of restraint and rhythm. Not everything has to be high octane and in your face, sometimes it is just about getting the basics right and letting the listener do the rest.
Lyrically delivered in Spanish, even without understanding the words, it still weaves a soulful and sensual elegance across the addictive music, proving that it is often the case, and particularly in the case of dance music styles, that the message isn't so important as the overall sound of the track and so language barriers are less of an issue than they might be in other genres.
Pop fans will love the accessibility, urbanites the sophistication, Latin music aficionados will soak up the sassy rhythms, beach bums will love how it reminds them of sun drenched tropical days and the dance floor set will just fall for its sultry charms.It is hard to imagine anyone who would not instantly love this track, so expect to hear its heady vibes emanating from the radio every time you turn it on.