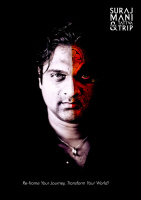 Suraj Mani charts worldwide with single, "Rinse and Repeat".  Musik Radio Promotions breaks cultural boundaries with groundbreaking track by Suraj Mani.  As the world seems to become an increasingly smaller place, as cultural and even geographical barriers become ever more irrelevant, music which seems to belong to more than one place is becoming more and more prevalent. Perhaps this is what they call world music, but in a sense all music is world music, being of the world.
Suraj Mani not only makes music which bridges cultures, he makes music which spans musical eras and merges genres too, as Rinse and Repeat deftly showcases. A tastefully blend of western acoustica and eastern rhythms, 70's folk and traditional Indian beats, the heady sound of the orient weaving its way through the more rigid sounds of the west, his music is not just gorgeous to listen to, it is inspiring too.
And as wonderful as the music is with its mellifluous sonic charms, its lightness, its delicacy, it is perhaps the unspoken message which is the most powerful aspect of all. Rinse and Repeat is a musical act of unity, a coming together of cross-cultural sounds, a meeting of minds, a meeting of worlds. There is a reason why he is known as a rock poet, as The Singing Sensei and why he has numerous awards and accolades to his name and it goes beyond the ability weave mere music.
Some musicians write great songs. Others deliver poignant messages. Few have the power to do both those things simultaneously.
A musician par excellence Suraj is a not just a rock poet, he is also part philosopher and all heart. Something that shines through in each word of every song, all of which are a labor of love and offered up in complete honesty.
Lovingly called 'The Singing Sensei', by his fans, for his body of work with the legendary Indian band Motherjane*, Suraj takes us on a fresh new journey that showcases his prowess as one of India's finest – poet & songwriter.
Do yourselves a favour and savour this wordsmith's musings in entirety, because they shine, bright and lustrous in your mind, long after the last note fades out.
And that's why it's Art – pure, unpretentious and unrepentant.
*awards:
Best Rock Vocalist in Asia –AVIMA 2010 the World's Largest Indie Awards
Best Singer -The Jack Daniels Rock Awards 08-09
Best Singer/Songwriter -The Leon Ireland Award 08-09
Best Rock Album 2002- 'Insane Biography' Unwind Awards
Best Rock Album 2008-'Maktub' Rolling Stone Magazine, Unwind Awards
Best Album Art – The Tattva Trip – The Jack Daniel Rock Awards 201