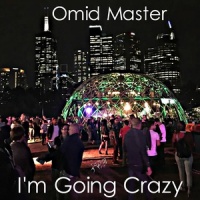 Omid Master's latest single "I'm Going Crazy" is his third release with Musik Radio Promotions with collaboration from Wolf Entertainment and is already making waves in the charts. It's a relatable song about the time Master's spent away from his partner and how money cannot buy special times together
Like all the best musicians, the mercurially named Omid Master, sits at a confluence of musical rivers, a place where the waters gently churn and blend creating something that is sonically unique yet instantly recognisable. If the main channel is one very much in the singer-song writer vein, it is what pours into it that stands the music apart from artists working in similar territory.
Whereas the term singer-songwriter today conjures images of a lank haired youth in a wide brimmed hat with a neat line in borrowed emotion and throw away street wisdom, Omid comes from a place which has imbued his songs with more experience and integrity. His ability to smooth out the songs with soft pop edges, soulful, late night vibes, emotive lyrics and hypnotic grooves, immediately speak of his musical acumen, not to mention life experience. And despite the from the heart nature of his lyrics, that they come from personal observations and a life lived, they also deal with universal issues and concerns meaning that they speak to everyone. Put yourself inside his songs and you will find much that is familiar, much that is relatable, so much so that you will probably start having concerns that he has been watching you go about your life for a long time now, such is the common thread that sits at the heart of his music.
Master is now moving back to his home city Melbourne, Australia to finish the album. U.S. and European tour dates will be announced soon.
Be sure to listen to the music of Omid Master!