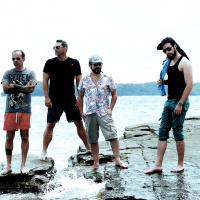 Now In semi-final round of grammy nominations!
 Monsieur Job's, Bass Passi 1 Album, is now #2 on the Latin Billboard Chart,  #2 on Latin Rhythm Albums, #41 on Heatseekers Albums, and #115 on Independent Albums. Managed and promoted by Stephen Wrench and Musik and Film Records, the first release, Chow Chow Eyyy Pow Pow, quickly climbed the Euro Charts gaining millions of new fans around the globe.
Musically, it's a wonderfully eclectic collection, a deft blend of slick urban beats and Latin grooves, Old World club land electronica meets New World sensual and organic spice. Pop fans will love the accessibility, urbanites the sophistication, Latin music aficionados will soak up the sassy rhythms, beach bums will love how it reminds them of sun-drenched tropical days and the dance floor set will just fall for its sultry charms
Lyrically delivered in Spanish, even without understanding the words, it still weaves a soulful and sensual elegance across the addictive music, proving that it is often the case, and particularly in the case of dance music styles, that the message isn't so important as the overall sound of the track and so language barriers are no issue.
Watch here for updates as Monsieur Job will be planning to tour soon!