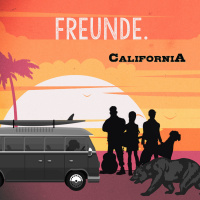 Musik Radio Promotions team with the loose collective band, Freunde, to present "California". It celebrates Americana, Nashville Pop and Country Rock. As an "old world" sound takes on the "new world", it debuted on the international DRT radio charts @ 13 in the category "adult contemporary"!
You read so many stories of musicians and band leaders ruling their creative territory with a rod of iron, so it's refreshing to read about a musical project which is worlds apart from such draconian methods. Freunde, perfectly named being the German for friends, is a project centered around Zurich based, Heiko Freund, and LA's Daniel Schwarz, both producers and musicians in their own right but more interested in exploring the American songwriting tradition than merely furthering their own agenda.
The beauty of Freunde is that it is a loose collective rather than a band, one where a musically eclectic and ever-shifting group of singers, songwriters, musicians and engineers move through its ranks in the pursuit and celebration of Americana, Nashville Pop and Country Rock sounds. This ever-fluid approach means that things remain fresh and fun and as the line-ups change different combinations of talent and ideas, musical outlooks and past experience are jumbled together in new and exciting ways. They also have an interesting public persona, preferring to be represented as a cartoon and thus putting ego firmly to the back of the project and the music to the fore.
And what great music it is too. California is a warm and breezy country-pop song which can't help to put a smile on the listeners face, reminiscent of the joyous indie-roots sound of The Thrills and played with a willful innocence and unabated joy that perhaps only comes from a band looking at west coast culture largely from the outside.
It is the sound of beach parties and seaside burger joints, of driving Big Sur with the top down and walking the hot sidewalks. It jangles and pops, it grooves and rocks in equal measure but being an Old World take on the New World sound it neatly avoids the clichés and finds its own mid-Atlantic middle ground. Not only an original and funky take on the iconic beach anthem but a sure-fire hit in the making. If you love "The Eagles", you will love, "California"!