According to a report by TorrentFreak, Google's Transparency Report shows that the top 10 infringing sites received 70 million infringement complaints last year.
This news comes after major copyright holders have been struggling to control massive online infringement for nearly two decades.  There have been major efforts surrounding a proposed modification to the longstanding 'Takedown' policies, powered by a Digital Millennium Copyright Act (DMCA) loophole.
But, the obvious problem there is that anything 'taken down' almost instantly reappears.  Copyright owners complain that despite sending millions of notices, the same content reappears, sometimes only a matter of hours after being taken down.  In this case, the ten most obvious offenders were nearly impossible to remove.For years, copyright owners have been battling for 'Takedown' to become 'Take down, Stay down' for obvious, repeated infringers.  These changes would allow copyright holders to issue a DMCA notice to a site for a specific piece of content and that content would be prevented from reappearing again on the same platform.
But Google has strongly opposed this movement, deeming the proposal not viable and "not a solution".  Though, there has been talk that there may be alterations to the existing law, and there have been a few Copyright Office roundtables to discuss and consider if the DMCA safe harbor provisions are working as intended.
When considering there were 70 million takedown requests from just 10 sites last year, its hard to say that these provisions are working at all.
Below are the top 10 sites with the most complaints last year…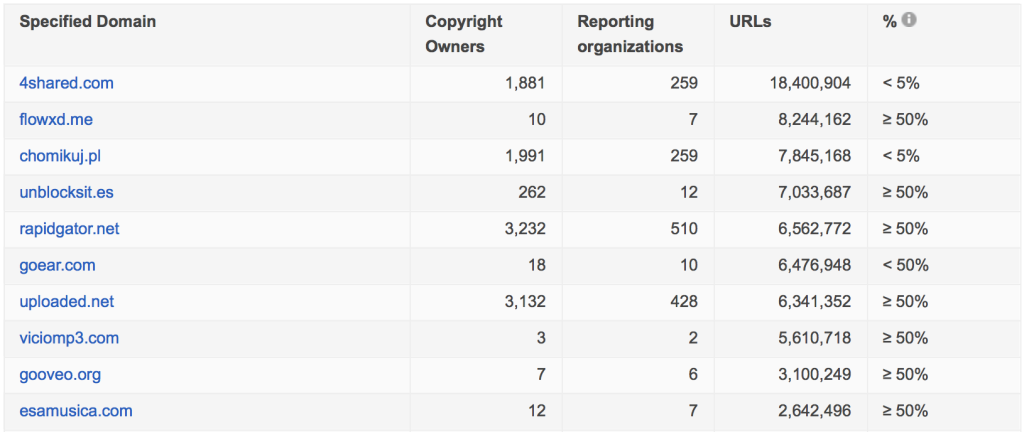 Musik and Film  encourages all songwriters to repost and comment to stop abuse of your content