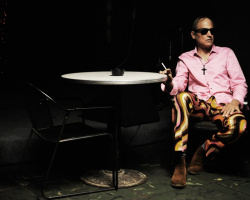 Musik and Film Promotions release AV Super Sunshine's 2nd single, "Orange".Every sound is a real mic'd instrument played in real time by a real musician.  There's cool riffs, super sexy 70s inspired vocals, electric 12 string guitar, cowbell, as well as, Ben Fold's best grand piano mic'd by his best engineer. "Orange" has  charted on the  Euro Indie Music Chart gaining global fans.
To make AV's new recording period correct, the "Orange" album rock mix was recorded at Ben Folds Studio (RCA Victor Studio A) in Nashville, where glam rock's founding fathers, the Monkee's recorded.  Overdubs were done at House of Blues and Dream On Studios, also both in Nashville.  It was produced by Grammy nominated James House and mixed and engineered by Joe Costa.
The "Orange" radio and dance remixes were created by legendary DJ, producer and hit maker Michael Bradford.  Bradford took a completely different approach by transforming the "period correct" glam rock album mix into modern Moog electronic pop and dance masterpieces.  A funky-chunky beat with disco robot vocoder compliment AV Super Sunshine's ultra-smooth delivery.