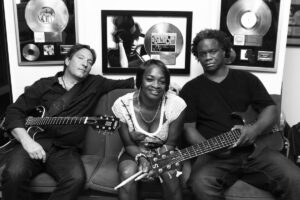 Musik Radio Promotions plugs "Queen of Hearts, The Dream Logic's latest single. The single is playing worldwide and was recently #1 on the Euro Indie Chart.
The Dream Logic is a fascinating concept. Made up of composer and multi-instrumentalist Charles Compo, drummer Camille Gainer and bassist Jerry Brooks, they are seasoned veterans who make music that sounds young and fresh. Genre hopping individuals who mix and match their various musical loves into almost indescribable music that skirts funk, rock, jazz and pop yet never fully commits to any one of them. Musicians who have worked with everyone from Living Colour's Vernon Reid to Christina Aguilera but who you probably haven't heard of by name.
But it is this varied and fluid approach to making music that means that they find that they are not hampered or hemmed in by what they think the audience expects from them or even what they expect from themselves. Queen of Hearts is a perfect example of this exploratory and untethered approach: a gentle, mid paced, funk-rock ballad that walks a sure-footed line between energy and elegance, that is able to deliver the goods in the form of a killer chorus, expertly calculated slow-burning builds and some typically flawless solo guitar work but which understands that you don't have to give away the goods all in one go, that it is okay to leave them wanting more.
But the real joy of Queen of Hearts and The Dream Logic themselves is the freedom that they allow themselves. Freedom to reference genres that have little business being on such good terms with each other, freedom to hold back when lesser bands would have over sold themselves, freedom to be themselves and not even try to live up to anyone else expectation. And that all comes with age. The Dream Logic is the sound of wise heads on energetic bodies and whilst younger musicians may be able to match them for drive and delivery, perhaps, when it comes to the skills that are the difference between writing a good song and a truly great song there is no substitute for experience.