Musik & Film Promotions team announce Destiny Malibu's single, Peace 2020, now accepted for airplay on: MTV VOD, MTV Jams, mtvU,  MTV Jams,and  MTV Jams! The single is now also charting Top 5 in Europe and Top 20 on world Indie chart! WORLD.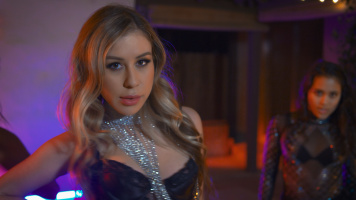 In these trying times, Destiny Malibu is releasing "Peace 2020" in  an effort to bring our world a message of hope, reflection, peace and racial unity.   Filmed in a boxing ring in Malibu, California, "Peace 2020"  is a metaphorical story meant to reflect how regardless of our age, race, color or where we are from – we all face battles in life.  Especially this year, we all have a personal story of pain to tell. These battles have left many of us scarred, broken and feeling alone.     We have undeniably faced 2020 with our boxing gloves on. In an eerily apocalyptic battle, our world has been plagued with many unexpected tragic events.     While in mourning over the horrific Australian fires that burned more than 46 million acres, we were left inconsolable with the tragic death of legendary Sports Icon, Kobe Bryant, his daughter Gianna Bryant and seven others in a nightmarish helicopter crash. As the world cried together, COVID-19, a worldwide pandemic coined as the "invisible enemy", swept fear throughout every community. Quarantined for months, many of us had no choice but to isolate alone. Our emotions running high,  millions were left without jobs, without businesses and unable to attend school campuses. Some of the most important public celebrations of our lives from graduations, weddings, birthdays and even funerals were canceled, postponed, or honored alone.  Protests against police brutality prompted by the death of George Floyd,  led to further cries for justice across the globe. This global movement has led to both peaceful protests and rioting; to prayer and property destruction, to pleas for equality and an end to systemic racism. Overall chaos in 2020 has shaken Planet Earth. And now… we cry for Peace in 2020.     "Peace 2020" in both song composition and production beg the question, "When there is no one left to call, and you're losing it all… where do you find your peace?" When you hit rock bottom, where and who do you turn to?   While the first half of the song is a desperate cry for help to the heavens, the second half of the song is an answer of hope. Ringing with comfort, the lyrics are sung with confidence, "I find my peace in You". "You" is a different representation of hope for every individual.     Though our stories, our strengths and our weaknesses are all different, pain is a part of the human experience that shows us in challenging moments, we are not so different from each other after all. We all bleed red. Instead of fighting each other, let's fight together for freedom, racial unity and world peace.
'Destiny Malibu" has performed at such renowned venues as the House of Blues and Viper Room in LA, as well as high profile festivals such as Texas Rockfest and the Florida Music Festival.  She has recently begun to push creative boundaries, experimenting with Spanish-language songs that honor the Latin roots she owes to her mother and soon will be touring'.  Follow Destiny Malibu here. 
'Destiny Malibu, one of the year's 25 break-out artists' – Shutter16.com
'Independent singer, songwriter, talent, inspiration…a young person that actually cares…genuine.' – Elizabeth Espinosa, iHeartRadio
"She cuts up one of the sexiest beats you're going to find on either side of the dial right now, all while submitting fiery vocals that could melt the hearts of any pop fan." https://celebrityzones.com/2020/03/18/lo-siento-by-destiny-malibu/
Contestant American Idol – 2018
For more information on world radio promotions, video promotions and general information: www.musikandfilm.com