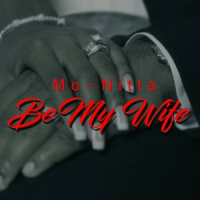 Mo-Nitta's, Be My Wife, a universal hit being released by Musik Radio Promotions worldwide campaign. "Musik and Film is by far the biggest positive result of spending my hard-earned money, after several email exchanges with Stephen Wrench, I knew I was headed to the big league but it didn't get any more real than to have my single, Be My Wife, picked by BBC Radio, Foyle and other major continental, national and regional stations on its first day of promotion. You guys are the pinnacle of worldwide radio promotion, there will be no other after you. Musik Radio Promotions or nothing!", Mo-Nitta
Be My Wife(Produced by Nejah) is the second single from the Lesothan, S. Africa's, singer-songwriter and rapper continues the success of his debut song, Tell Me Why. That first single charted at number 6 on the official European Independent Music Chart qualified for the semi-finals of the International Songwriting  Competition earlier this year, quickly followed by its entry into the Euro Indie Music Chart. "Be My Wife" charted #1 on The Euro Indie Music Chart.
Be My Wife is a universal story, relatable to all who hear it and honest and open in its sentiment, a love story of a couple coming through the toughest times together before the man proposes to the sweetheart in question. It is the oldest story in the book but one that is the archetypal story of the human condition, for love, as they say, conquers all.
It is a song which blends pop and R&B, sweet vocals with confident rap, the sound of western musical forms being colored by African sounds. It is wonderfully spacious, leaving space for the different textures and musical layers to be able to function effectively but it still manages to groove along infectiously. It shows that Mo Nitta really knows how to pen a song perfectly in tune with the tastes of the modern commercial audience, one that is not only invested in pop, soul and hip-hop but one which takes more traditional sounds from his homeland and blends those heady flavours too. It always pays to know where you are heading but never forget where you come from either.
Both this and the previous single are taken from his debut album, My Story, which is now widely available through most major digital platforms.