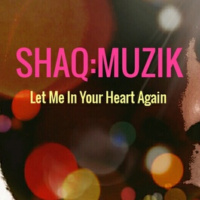 After the worldwide success of My One and Only Love, ShaQ:Muzik does it once again charting with, Let Me Be in Your Heart Again, worldwide campaign and Musik Radio Promotions.
Uk's, ShaQ:Muzik does that rarest of things, he makes pop that sounds both grown up and wonderfully infectious at the same time. Throwaway pop is two a penny, it always has been, and that is pretty much the nature of the beast and pop aimed at a more mature audience generally misses the point, taking itself too seriously and forgetting why it came into the room in the first place. But ShaQ:Muzik seems to have found the perfect way to walk the line between the two musical worlds, making music which is subtle yet addictive, appeals to the discerning music fan but which has mass commercial appeal, which is soaked in lush late night vibes but which is equally at home as the soundtrack to a sun-soaked beach party and which makes a perfect, radio-friendly sound.
Songs like his previous release, My One and Only Love, are a perfect example of this rare skill. It effortlessly hooks, it zings with an understated charm, it pops in the most chilled out of ways and it certainly grooves, it is infectious and accessible but it is also cleverly put together, sassy, soulful and bluesy.
Let Me In Your Heart Again follows with the same understated, smooth grace, underlining all his trademark qualities and taking them to new heights. It also adds an unexpected lyrical astuteness to a genre he is starting to make his own, so much so that the end result is nothing less than deep and meaningful pop beating with an R&B heart. The perfect blend of the cultish and the commercial.
Let Me In Your Heart Again