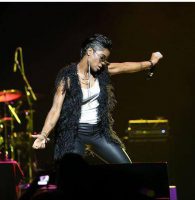 Pamela Long's  new hit single, You Said released by Musik Radio Promotions is garnering worldwide radio airplay.
The voice that many find to be unique and unable to be duplicated is back! Pamela Long of the platinum selling R&B group Total, has emerged once again with the sound we all fell in love with.  Her sound first debuted on the Bad  Boy/Arista roster, which immediately garnered her the spot as the lead vocalist of the group. Music mogul Sean "Puff Daddy" Combs recognized the distinction of Pamela's voice, and used it to make a huge impact in he music industry. Total is best known for their hits "What You Want" (Featuring Mase), "Kissing You", "Can't You See" (featuring The Notorious B.I.G.), and "What About Us".
All three members of R&B super group, Total , Kima Raynor, Keisha Spivey and Pamela Long, are currently reuniting  for the first time ever to represent the fierce ladies behind the Bad Boy empire touring with The Bad Boy Family Reunion Tour."This isn't just a concert– this is a moment in hip hop and R&B history." said Sean "Diddy" Combs aka Puff Daddy.
This Grammy Award winner (for the song "Hypnotize" with The Notorious B.I.G) made an indelible mark on contemporary R&B music back then, and is just as relevant today; ready to surpass what has already been done. Pamela's new single, "You Said" continues to forge ahead with a style that is uniquely "Pamela Long".
Pamela says, "By God's grace I am here, and by God's grace I shall remain." And we are all blessed because of her continued presence in the music world!