"I'm happy to work with Stephen Wrench and his kind team. Incredible, how fast the success came. Very professional work together and the activities exactly hit the point."
Tietjen's comments recently when he began working with Musik Radio Promotions on a campaign for his single, "Now I'm Free".
However,  Harry Tietjen has been entertaining music lovers around the world for decades. Starting off at a very young age, Harry learned to play guitar, and piano, as well as sing. He landed his first gig in France at the age of 17 and hasn't slowed down since; going on at age 20 to win the North German Singers competition with his first band, "Harry's Gang".
In the early 80's Harry and a friend of his started a rock n roll club called "The Castle" in Hamburg. After two years of excitement at The Castle, he decided it was time take his music on an adventure, and set out to share his music in Morocco. He left his hometown of Hamburg and moved to Morocco to set up a new band. After a few months the funds ran out; unfortunately before the band could really take off.
"Then it hit me, why not solo performances in hotel bars and at Moroccan family celebrations, after all English cover songs were all the rage."
"I was most fascinated by the extremes in daily life. One day, singing accompanied by lively guitar in the middle of corrugated iron ghetto for enthusiastic pop fans and the next, playing piano in a luxury hotel followed by a sumptuous 4-course menu for polite society."
"Or sometimes people would simply & politely ask me if I could play something on my guitar play whilst sitting in a cafe. The music was ever present then as it is now and with an equally strong connection. People invited me home to their families and told me their life stories".
In the 90's, after eventually returning from his trips around the world, Harry found the "Come Together Studio", producing bands like Inusa Dawuda, King Kurlee, Sandra king, Lightman, and others.
All these years later, Harry is still passion driven to create music, going on to win several awards in Germany in the late 2000's to include Germany's Best Folk Rock Voice 2008, Germany's Best Pop Voice 2009, and Best Arrangement in 2010. Harry has teamed up with Musik and Film's promotions team to send his music 'round the world yet again, with his single "Now I'm Free" soaring to Number 1 in the Rock charts in 2015. We caught up with Harry Tietjen and asked him a few questions about his career in the music industry
​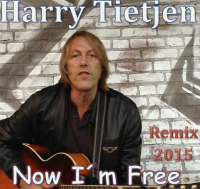 What has been your greatest opportunity in your career so far?
The awards, yes. Germanys best Popvoice 2009, Germanys best Folkrockvoice 2008 and the best arrangement 2010. Of course that was great. But even more something else in the live situations. If people are touched by the music, especially in small music club and if after I start singing people are immediately silent and listen. Then there is this moment of magic.
What do you think drives you to continue your pursuit as a professional musician?​
Harry: My passion. I have to do it. Think there´s nothing better than if you follow your passion. 
What do you think distinguishes a true music artist from an entertainer?
Harry: The best is when he´s both. But a true music artist tells something from his heart no matter what he gets for it.
What made you want to pursue a career in music?
Harry: You know, I´m an idealist. I´m happy if I can inspire people a little bit or make them dream.
What advice would you give a music artist who is just starting out?
Harry: Think that you always can do a little bit more than you think you can do and find the right musicians or team that really fit you.
When did you realize that you wanted a career in music and what prompted that decision?
Harry: I was 14. At that time I scared my parents with a self-made Electric-Guitar and there was a deep moment of knowing – this is my vocation.
What is so special about your album?
Harry: That I have worked the biggest part of my history into it has certainly helped. The wild times in our own live music club, the exciting years on the road with my guitar, the creating of the music studio and the many, many live gigs have all contributed towards making the album very special.
How would you describe your music?
Harry: The Style is Rock Pop with Blues, Country, Latin and Funk elements.
What are your goals where do you want to take your music?
Harry: I mostly did perform by myself on the guitar. The next step will be performing my original songs with a big band around the world.
What has been your experience been like working with Music and Film?
Harry: I´m happy to work with Stephen Wrench and his team. It's incredible just how fast we've been successful. We work very professionally together and our activities hit the goal.