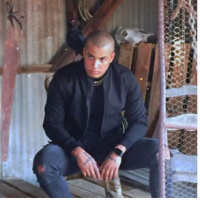 Musik Radio Promotions (MRP) presents Matt Craven's debut single, My Diamond Wings.  Breaks as #1 on World Indie Music Charts.
Originally from Detroit, Michigan, hip-hop artist Matt Craven turns up the flames on the music industry with his debut single My Diamond Wings. Matt Craven was discovered and produced by Dennis Shinn, also known under the producer name "AKA Menace" whose best known as a multi-platinum song writer for the rock group KORN. Matt recently signed with the producer and the bond has already opened doors of opportunity.
My Diamond Wings has been making waves as it has peaked at the number one position on the World Indie Music Charts top 100. Matt Craven has also received some very favorable press. Back in March 2020, The Source  – March 31, 2020 describes the multi-talented artist as follows: "Matt Craven is one of the most prolific artist to create music in today's time. What he brings to the game is something that cannot be put into words. This guy is a superstar in the making, with the talent on the level of a Michael Jackson, Tommy Lee , Prince and ETC. The music industry has been waiting for an artist like this to come along and we think he is here."
Other news sources like Hip Hop Weekly magazine – March 2020 shower the emerging musical songster with praise: "Matt Craven is an artist that is on the come up for real. He really brings something powerful and special to the music industry. Something we have never seen or heard before. A new perspective on things that really is enlightening."
As an eclectic fusion of folk, pop, r&b, and soul music genres that are ingeniously embedded in a hip-hop soundscape, My Diamond Wings truly introduces something new to music enthusiasts and the world of urban entertainment. The track opens with acoustic guitar strums and acapella voice. Once the suave drum pattern drops Matt Craven takes the listener to a whole new world of sonic elegance with this enthralling groove. The filtered bassline accounts for another layer of depth amid an audible smorgasbord of alluring keyboard and synth measures. Matt Craven's rap-sung flow glides over this production effortlessly. My Diamond Wings' poetic lyricism and symbolic prose add another  level of enchantment to the overall premise of a song that embellishes the theme of overcoming inner turmoil.
Matt Craven is one of the few artists that have been able to make a debut venture settle in the nest of also becoming a masterpiece. My Diamond Wings is a song that sets the tone for a new era and phase in hip-hop music. The track appeals to people of all walks of life, as Matt Craven has given us an experience that is completely unforgettable.