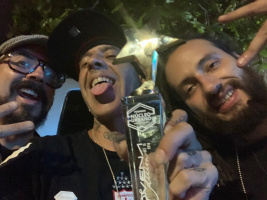 Monsieur Job wins Best New Artist at Latin Billboard Music Awards in Cali, Columbia.
Promotion and management with Musik and Film since  2017, Monsieur Job has found itself on chart after chart gaining thousands of fans around the world..
"Monsieur Job was Formed by Toby Holguin from Cali, Colombia, a beautiful place high in the mountains above the clouds. Toby then asked Charlie Illera from Barranquilla, Colombia, and Leo Jaramillo from Bogota, Colombia to become one musically as Monsieur Job.  All of them live and breathe their own style of music.
Toby had the idea to start doing Urban Music besides Chill Out and Electronic Music, which is the vision that created the album "Bass Passi". They started dropping broken beats with a more festive, shaky, groovy Caribbean Latin flavor turning it into an international exclusive mash up of world talents and a unique blend of genres.
Moreover, their second studio album; Zona de Dropeo" has been released this late summer 2019 bringing you hot singles like; "A Escondidas", "Busqué Mal", and "Boogie..báilalo brincao".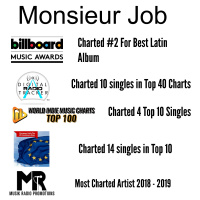 For their debut release, Chow Chow Eyyy Pow Pow, the record has hit the Euro Indie Music Chart at #1 for 9 consecutive weeks as well as progressive singles; "Kick it" Remix feat. Charly Black, "Pica Pica", Niña Shake Your Body" feat. No Mercy & Vojke Djans and "Chilliando Hangueando" feat. Cholo, and "La Melancolic Happy" feat. Clindistino reaching the #1 position as well, the DRT Top 10, and Top 200 for Best Albums, #2 for the Billboard Latin Rhythm Albums Chart, and the Billboard Top 10 Heatseekers Albums Chart for their album "Bass Passi".