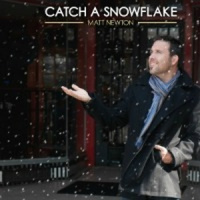 Matt Newton releases holiday classic,  "Catch A Snowflake" for 4th year with Musik Radio Promotions.
Matt Newton's, "Catch A Snowflake", written by Thornton Cline is one of those rare things, a seasonally themed track which is restrained and deftly crafted.
Matt Newton's voice captures the essence of a gentle ballad, one of those timeless numbers, an instant classic which unifies all ages at such times of year; one which describes the joy of the first snowfall and evokes nostalgic memories and reminds us that as soon as those first flakes fall we are all wide-eyed children once again. The perfect background theme to the holidays fun and one destined not to age.
Being released for the 4th year, it has been a radio hit since the beginning. That success being numbers 11 and 13 on the DRT Adult Contemporary and Rock national charts respectively and Newton himself at number 11 on the DRT Independent Artist National Charts, a long journey from the seven year old boy who used to sing harmony with his mother back in Washington, Indiana.
Matt remains a much sought after session singer on the Nashville circuit and when not plying a trade in original music can be found fronting, Hot Blooded, the world's top Foreigner tribute act.
But get used to hearing him, as "Catch a Snowflake" is well on its way to becoming a staple of holiday music. With the success of this collaboration with Dove and Grammy nominated writer, Thornton Cline will ensure that his voice is permanent fixture on the airwaves across the globe from now on.