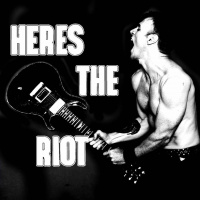 'Here's The Riot'  a hit with, "Love Makes Me Crazy" promoted by Musik Radio Promotions.
Having formed the band Slamhound with Buckcherry's Josh Todd, fronting Church of Mars himself and even exploring more gothic and dark wave urges under the moniker of Paris Grim. Here's The Riot, however, sees him working closer to his rock'n'roll roots and the result is a melodic hard rock which pitches dynamic songwriting against infectious melodies incorporates big guitar hooks and memorable choruses.
You can usually see in what musical genres an artist chooses to hang his hat and though Love Makes Me Crazy pretty much drives along on a classic rock vibe and with an air of west coast, glam rock spaciousness, this is no mere rehashing of the past. Whilst you can probably pick out many of the individual musical building blocks, what Here's The Riot has fashioned them into is a totally new piece of exquisite sonic architecture.
Here's The Riot is a band looking for a bigger stage and has done so with Love Makes Me Crazy featured on the hit tv show One Mississippi.  You can hear it in their music, songs crafted for big platforms, anthemic launch pads and stadium broadcasts, big songs looking for a big space to call home. It also walks that fine line between cultishness and commerciality making it totally palatable to the rock creatures of the night, the discerning and those in the know but with the right push and certain doors being opened for them, Here's The Riot sound is one that could break through into more mainstream market.
Here's The Riot's single, Love Makes Me Crazy, in collaboration with Musik Radio Promotions charted on  Digital Radio Tracker's top 50 charts!  More hits coming!