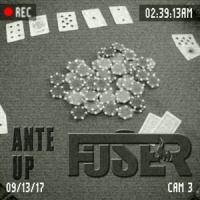 Fuser's 9th campaign with Musik Radio Promotions finds, "Ante Up" on DRT top 10 and top 10 Euro Charts.
Fuser is one of those bands who remember what rock and roll music is all about. Before everything was taken to extremes by the metal fraternity or sold out into fashion driven corporate compromise, there was a beat and groove and that was all some bands needed to fashion addictive, foot tapping rock, music which aimed for the heart and soul not to mention what ever organ of the body is in charge of head down no nonsense mindless boogying. Fuser are just such a band.
This New Zealand outfit splice classic rock riffs onto timeless rock grooves, alt-rock grit onto muscular backbeats, they balance power with melody, old-school rock charm with a modern edgy attitude and leave enough space for everything to breath. In short it is rock stripped down to the bare necessities, no excessive showboating, no ego-driven moments in the spotlight, no extra fat and no added sugar. If it doesn't serve the song then it doesn't get in.
The backbeat drives relentlessly, the bass line pounds out a tribal dance, guitars fire off white-hot salvos and almost industrial edged riffs, and the vocals have exactly the right blend of attitude and belligerence to complete the picture. For far too long have we been subjected to screaming metal bands who feel the need to throw two albums worth of notes into every song or melodic posers watering down the essence of rock and roll for a unit shifting, chart orientated career. But there is another way.
What Fuser realize is that rock music thrives best at a point where solidity meets melody, where intensity meets accessibility and simple grooves and solid beats serve much better than trying to show off or pander to popularity. In a couple of generations time people will look back at music such as this and define it as classic rock for their age and I guess as accolades go it doesn't get better than that.
We look forward to release #10! Congrats to "Fuser"!