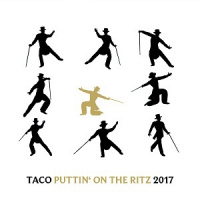 Taco's fresh rendition of "Puttin On The Ritz" promoted by Musik Radio Promotions on European Top 10 Charts!
Taco's sassy, electro swing version  of "Puttin' On The Ritz" won Jordan Fisher and Lindsay Arnold the 25th season of Dancing With The Stars by their performing a freestyle routine to the latest version of the song. That performance also resulted in the track charting at the top spot of the iTunes easy listening chart.
Some songs never go out of fashion, they just need to find a way to move with the times. Dutch singer Taco realized just that when he first covered Irving Berlin's classic, Puttin' On the Ritz, back in 1982. Taco took a sound that was connected with Fred Astaire dance routines and the black and white film era and represented it as something more in keeping with the dance culture of the time.
And if the original Taco cover was an elaborate synth pop version, one which with a million sales in the US alone saw it ride high in the Billboard charts, to celebrate its 35th anniversary (87 years since the original first saw the public light of day) next saw Taco launching a comeback with a sassy, electro swing version of the track –  Puttin' On The Ritz 2017!
Taco has made a career of revisiting the golden age of film and musical theatre and re-imagining them, re-packaging them for a new audience, keeping them fresh and alive for the next generation, everything from Berlin to Glen Miller, big band swing and stage favorites, whilst acting in musical productions himself most notably playing Chico in The Marx Brothers Radio Show and helping to bring new takes on Shakespeare to a more rock and roll audience. This is a man who knows the musical theatre world from all angles which explains why his meshing of tradition and forward thinking, of the then and the now, works so well.
The story never ends, music is timeless and some songs last forever. It is in part, thanks to artists such as Taco, that this is the case.