Musik and Film Records announce signing "Mats Ronander & The Dusty Runners", a group founded by Mats Ronander of "ABBA". It's a band where commercial possibilities meet rootsy traditions, where the sound of the American dream gets dressed up for an even bigger international audience.
They say that you can tell a lot about a person by the company that they keep. And whilst that is indeed true, it is even more so for musicians. So the fact that Mats Ronander has rubbed creative shoulders, not only home grown legends such as ABBA but has graced the ranks of the likes of Ian Hunter and Graham Parker's live line-ups, speaks volumes.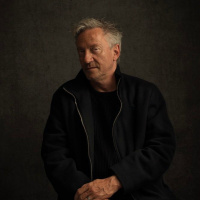 Mats has a string of critically and commercially acclaimed albums to his name, particularly in his beloved blues genre but also branching out across any number musical fields. Sweden born, he is a much sought after musician world over, as his resume shows, and his almost 50 years in the industry has seen him in studios, sessions and on stages and in touring bands across the globe. To his resume add 10 Solo Albums, 5 Blues Albums and thousands of sessions work in studios around the world. Mats has toured as a guitarist with ABBA, Ian Hunter, Graham Parker and most of the Scandinavian stars since the early 70´s.
Mats, contributes the lead vocals, playing guitar and Harmonica, with the newly-found group. Mats has now gathered around him an equally impressive cast of players to form "Mat's Ronander & The Dusty Runners".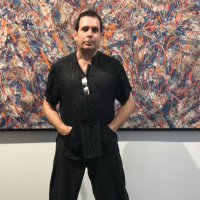 Stockholm born, Johan Wahlstrom joins the group on Keyboards. Wahlstrom began his career in rock and roll, where he had a successful and long career as a keyboardist and singer, touring with Ian Hunter, Graham Parker, Mick Ronson and many Scandinavian artists. After 18 years, the rock and roll life caught up with him. Being a fifth-generation artist on his mother's side, Wahlstrom moved to a small village in France where he did nothing but paint for seven years, part of that time under the tutelage of Swedish artist, Lennart Nystrom. Wahlstrom lives and works in Jersey City, NJ, and is one of today's artists who is making a conscious effort to describe the social political landscape of our contemporary world. His works have been exhibited since 1998 across Europe and USA in solo shows and group shows with artists like Gerhard Richter, Santiago Sierra, Erwin Olaf, Picasso, Salvador Dali, Jake & Dinos Chapman, David Salle and Andy Warhol. With Mats Ronander & The Dusty Runners,  Wahlstrom is now going back to his roots in  music and  looking forward to combine both 2 sides of his creativity.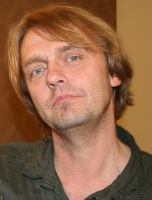 Tobbe Stener, on guitar, has played on hundreds of records such as Marie Fredriksson of Roxette and toured with international stars like Ian Hunter of the Mott and co-produced with Dan Reed. After studies at Berklee College of music in Boston Massachusetts Tobbe started as a full-time musician in 1981. In the early 90s he got more in to producing, such as, Annika Ljungberg of REDNEX. He is also a session guitar player in just about all Major TV shows in Sweden. Tobbe is now a guitar blasting member of Mats Ronander and The Dusty Runners.
Karin Risberg earned her first "big break" in 1986 as a finalist in Melodifestivalen, SVT´s annual music competition that determines Sweden´s representative for the Eurovision Song Contest. Karin´s performance of the iconic song "Stopp Stopp Stanna" earned her a place in the top ten 1986. Since then, Karin has transitioned from disco to country and grow into one of Sweden´s most succesful musical artists. Over the last twenty years she has headlined some of Europes largest country music festivals and events including Sävenäs Pop & Vis Festival, Luleå Harbour Festival, Country Music Festival Silkeborg, Scandinavian Country Music Festival. Karin Risberg has spent time in Nashville developing as a singer and songwriter. While there, she performed at Music City´s "3rd & Lindsley" with the "Award winning, The Time Jumpers featuring Vince Gill.  Karin brings her "Nashville" infused sound to "Mats Ronander & The Dusty Runners."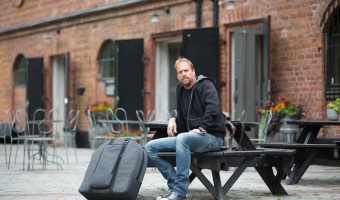 Magnus Fritz has been working as a drummer since 1995 and was one of the first Artists to endorse Slickbag gig bags. He is a master of styles and covers any genre between jazz and rock. Magnus is a well-known name in Stockholm show business and has worked with artists like Nils Landgren, Robert Wells, Mauro Scocco, LaGaylia Frazier, Kee Marcello, Georg Wadenius, Thomas Di Leva, Jamie Meyer, Mats Ronander and the list goes on and on. Ever been to a theatre or watched a Musical in Stockholm? Well, the odds are high that it was Magnus behind the drums. Book of Mormon, Mama Mia, Chess, West Side Story, Cats, Dirty Dancing, Grease, Flash dance… Once again, this is just a selection of shows where Magnus has occupied the drum throne in the orchestra pit. As an extremely all-round drummer with great reading skills and some nasty chops to add that little extra flavor to the music, he is the first call and go-to-guy for many Musical Directors. Magnus adds his master drum skillset  to "Mats Ronander & The Dusty Runners".
Mats Ronander & The Dusty Runners first album, "Would You?" has been released by Musik and Film Records. The first single, "The Bridge" is now playing internationally plugged by Musik Radio Promotions.  Stay tuned for exciting news from this internationally acclaimed band.