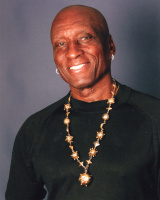 Musik Radio Promotions is proud to present King Errisson's newest single, One Love Shines, released through Wolf Entertainment.  Now playing worldwide and top 10 Euro Chart!
As soon as you hear " Love Shines" emanating out of the radio you immediately know that King Errisson isn't a new kid on the musical block. There is something in the deftness of the way he ties together sunshine reggae grooves, R&B sass, pop infectiousness and an inherent soulfulness that speaks of a long and illustrious career. These are the well-honed sonic hallmarks that only come from experience. And indeed King Errisson has worked with some of the greatest names in the industry from Marvin Gaye to Diana Ross, The Temptations to Smokey Robinson, Michael Jackson and the Jackson Five to Herb Alpert, from Barbra Streisand to Barry White and The Carpenters. He was also a permanent fixture of Neil Diamond's touring band from 1976 onwards.
His solo albums have wandered effortlessly across many generic boundaries from slick jazz to feel good funk to vibrant, Caribbean infused pop, and One Love Shines takes plentiful helpings from all of them. The song is a rallying call to be kinder to each other, the world may seem to be a darker and more entrenched place than ever but as always the music is the key to cut through and send a positive message. King Errisson is just the man to lead that charge spreading vibes of peace and positivity as he goes.
Pop fans will love the accessibility, reggae aficionados will love the sensual grooves, soul fans will dig the underlying smoothness and beach bums will love how it reminds them of sun-soaked tropical memories and everyone else will just marvel at how infectious, euphoric and optimistic the song is. Music can be a strong and effective tool and it doesn't come more powerful than this.