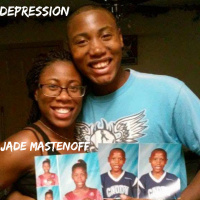 Musik and Film Records present Jade Massentoff's, "Depression", produced by Stephen Wrench.  Promoted by MAF to worldwide radio, the single is being played worldwide, being picked up by BBC6.
So much music is described in hyperbolic terms these days, but using words such as majestic, soaring, sky scraping and cinematic for Jade Massentoff's music still seems like an understatement. Depression is one of those songs which goes beyond genres, starting perhaps in the realms of a soulful pop ballad but then building, evolving and growing into something that takes on qualities that the language of music writing isn't best equipped to capture.
Deft and simple lines allow the vocals space to tell their emotive story, one of the loss of a loved one to the dark ravages of depression and in turn a form of exorcism for similar struggles faced by the artist herself. With the vocals as impressive and anthemic as they are it is enough to swathe the song in washes of strings, plaintive piano lines and shimmering and delicate guitars and let atmosphere, anticipation and emotion fill in the rest.
Not only is Depression a powerful song in musical terms it is an important one in social terms. As the world is becoming more and more open to conversations about mental health and letting past stigmas fall away, songs such as Depression and artists like Jade Massentoff are nothing less than torch bearers for changing how we approach such delicate subjects.
As articulated in Jades story,  "Depression" song is dedicated to the loss of my brother who was only 21 years old. He attempted to take his own life by consuming the whole bottle of his depression medication in the middle of the night after an altercation with his mother. It wasn't till hours later that I found my brother unresponsive in his room laying in his own urine and barley breathing. He was admitted to the hospital and the doctors did what they could but he was brain dead 2 days later.  My brother and I grew up together playing video games, playing sports, and always making the funniest jokes together. We never left each others side until It was my time to leave and live my own life. Even physically apart he was so protective of me and never let anyone try to hurt me. Knowing that he is gone now tears my heart apart. Every day I say his name and wear a small urn around my neck in remembrance of him. Now I am fighting the same battle that my brother didn't win. But I will win for him. And I want the world to win this battle with me. "Depression" is something that is so real but so overlooked and the loss of a loved one can really take a toll on someone causing, heart break, confusion, pain and ultimately depression."