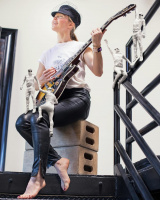 Musik Radio promotions presents Alya's perfect calling card, "Puppet Strings" to the world!
Why be one thing when you can be everything? That seems to be the philosophy that drives Alya, an artist who lists classically trained singer, ballet dancer, linguist, musician and painter amongst her impressive array of skills. She always excelled at music as a child but after bowingusi to the pressure to follow a more secure career she worked as a journalist but despite achieving much success in that field was always drawn back to music. Over a few explosively creative years she returned to her first creative love, got married, moved to Los Angeles and found herself a producer who could help her realize her musical vision.
Her debut album is finally in sight, or rather two version of her debut album are as she has decided to release one in English and another in Japanese, and it is hardly unexpected, given her exploratory creative nature, that musically it covers a lot of ground. The album can truly be classed as a generic fashion taking in modern pop, dreamy cinematic sounds and classical music, it calls on Japanese folk traditions, experiments with trip-hop and electronica, and even takes in 60's surf rock and jazz vibes.
Puppet Strings, the first single from the forthcoming release, is the perfect calling card for what is to follow. A song that is both accessible yet challenging, intricate yet wonderfully infectious, dance driven yet sweeping; western beats coupling with exotic eastern sonics, it says so much about Alya's enquiring mind. There was a time when music was beholden to geography, culture and tradition, when it could be easily labelled and grouped with similar sounds. In Alya we have an artist who not only writes her own rules but who is creating music that can be truly considered global, music that is not so much found within the world but which is better described as being of the world.