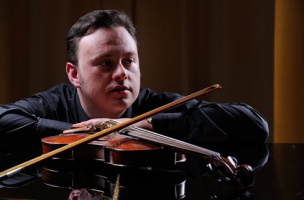 Gabriele Saro continues his successful promotions worldwide with Musik Radio Promotions.  The release of "Scorekeeper" and "Is It Love" has charted worldwide.
Gabriele Saro has always been someone who has deftly walked two paths simultaneously, a practical one and a creative one, something perfectly illustrated by the that that he has a Masters Degree in neuro-linguistic programming and a Diploma in violin. And similarly in his musical endeavours he wanders contradictory paths blending classical sounds with electronica, the analogue with the digital, the timeless with the cutting edge, the then and the now…and even the what next?

 "Is It Love" is a wonderfully sweeping piece, banks of cinematics and bring washes framing the ethereal vocals of Francesco Siliotto; however it is perhaps the duo's work on the track "Scorekeeper" which best typifies the attraction of the sonic oppositions in his work. Here he wilfully loads dance floor beats with tasteful futuristic electronica, blends pop harmonies with more ornate vocals and punctuates the whole with understated piano interludes, making something which could possibly be termed Classical Dance Music or perhaps Electronic Clubland Symphonies.

As the old divisions between the tribalism of music genres past have been ushered aside and a new wave of artists and composers found themselves free to take their influences and inspirations from anywhere and everywhere they desired, new musical fusions have been popping up with increasing regularity. Gabriele Saro has just taken it to its logical cross-genre conclusion.
On Amazon and in Digital Download his over 100 albums and compilations, looking for Gabriele Saro and Gabe Saro, ranging from classical music to electronics. He has received awards and mentions in national and international composition competitions, embracing serious music competitions and pop music competitions, such as the UK Songwriting Contest (Winner) and the USA Songwriting Competition (TOP 10 in 2 editions). Recent are the silver medals at the Global Music Awards with his new-age / classical albums "Sunsets 2" , "Passion" and "SensationS". Composer of music for documentaries, he works with publishers in the USA for the commercial exploitation of his works. He is a full member of The Guild of International Songwriters and Composers;He's written a staggering 900 compositions/songs that are registered with SIAE (Italy) and ASCAP (USA).