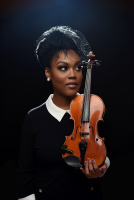 Musik Radio Promotions partners with Chelsey Green and The Green Project to present the passionate music of "Envisioned".  Now charting worldwide!
Great songs stand the test of time for the simplest and most obvious of reasons. Because they are great songs! And whilst some artists hitch their musical wagons to such sonic gems merely to be associated with their career enhancing benefits, Chelsey Green's take on the iconic Fly Me To The Moon is nothing short of an act of love. Here, she and trumpeter,Sean Jones, deliver a wonderfully post-modern take on the song, wandering soulful jazz pathways but doing so via the most modern and unexpected arrangements.

But the four tracks which make up her recent release, ReEnvisioned, is more about looking forward than back at past glories and the music found here show Chelsey's very fluid approach to genres. Time, which plays the e.p. out is the perfect example, a drifting and soulful ballad, one built around her lush voice and adding a touch of magic via a meandering and beguiling violin play out. And that violin really gets its moment in the spotlight on the instrumental Soundcheck as it wraps elegant, classical lines around funky bass lines and punctuating jazz percussion.

Soul,  jazz and funk music often seems to be frozen in its own musical headlights, genres which are weighed down by their own traditions and great musical history. What Chelsey Green does so brilliantly is adds a wonderful freshness to those sounds and offers us a new take on them whilst remaining true to that musics soul. She even throws in some unexpected elements, classical violin, cinematic highs, ambient lows, pop sensibilities and displays a real deftness when hopping between those often tiresome generic fences.
"ReEnvisioned represents my continued effort to break the niche mentality and not restrict myself to one, single genre," says Chelsey, whose discography also includes their 2012 EP, Still Green, and their popular 2018 single, Summertime. For jazz and soul fans who haven't experienced The Green Project's explosive live performances across the U.S. and internationally, this EP is the perfect primer to connect with the unique melodic, harmonic and grooving chemistry of the group. 

If you want to know what the future of those genres sounds like then listen to ReEnvisioned and then catch Chelsey Green and The Green Project live as soon as you are able.