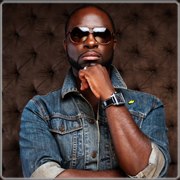 Solroc Music recording artist Carlos Morgan; a multi award winning talented singer, songwriter and producer is poised to break out on a global level. Teaming up with Musik Radio Promotions, his new single, "Have A Little Faith", is reaching a new audience of fans. Morgan is no stranger to the music scene garnering honors from induction into Canada's Who's Who, Best Male R&B artist, and many others.

The best music has the ability to walk fine lines between different worlds and is able to appeal to wide demographics without sacrificing its own integrity. We often see the opposite of this idea at work, at one extreme you find throwaway pop music aimed at the teen dollar ebbing and flowing wheel of fashion turns, at the other music aimed at a mature audience often playing things safe, music consumers who have long ago decided what they like. Rarely do we find songs which appeal to both ends of the spectrum, songs which are fresh enough for the younger set but also refined and slick enough to become firm favourites through constant repeat. Just occasionally, music clever enough to fit into both camps simultaneously pops up on the radar and Have a Little Faith is just such a song.
It will appeal to the pop-picker through its graceful infectiousness but Carlos Morgan undoubtedly has his eye on the modern R&B audience who will appreciate his gorgeously soulful tones and the spacious grooves going on behind it. It is a song that gentled woos the audience, a soothing antidote to the bombast and blatancy of most of the music aiming for chart positioning and mainstream play. But this is the real deal, honest, intimate and ultimately engaging.
"Have A Little Faith", is about overcoming life's obstacles, loving yourself and not giving up when facing life trials and tribulations, a sure sign there will be much to come from Carlos Morgan.