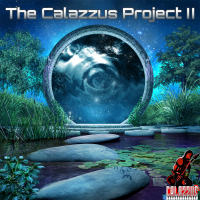 Musik Radio Promotions presents Calazzus Project II to global airplay. With the music of the future, the sound of all the past walls between music coming down, this EP is now charting on top 50 Cashbox and gaining fans around the world.
There used to be a thing called music genres, an easy label which gave the would-be listener a bit of an insight into the style and sound of the music at hand, something to give an idea of which neat box the music falls into. It was quick, easy and wildly inaccurate, getting more inaccurate as we moved from the tribal world of the past into the rule flaunting modern musical age. And if there was any trace of the old school approach still in evidence, The Calazzus Project II has just blown any remains out of the sonic waters.
With decades worth of production and composition experience under his belt, largely in the hip-hop, rap and urban fields, it was 5 years ago that "Calazzus broadened his range to encapsulate everything from pop, cinematic, ambient and music of a more soundscaping nature. His current release, The Calazzus Project II, takes in all this and more, the music as often driven by rock guitars as it is pop beats, or dominated by electronic dance vibes or R&B grooves. It contains 6 slick and confident pop-driven dance tunes and is a great example of what can be achieved when you refuse to be beholden to rules and regulations, tradition and conformity.
The music found on the e.p. isn't simple but it is direct, it is not just ploughing familiar musical furrows, it is taking the tried and tested, the proven musical motifs and reshaping and evolving those ideas, and any familiar sonic threads running through it is balanced by a freshness and modernity that will keep the songs at the cutting edge of dancefloor culture for a while to come.
"Calazzus" is the sound of the future, the sound of all the past walls between music coming down so that modern songwriters have access to a sonic palette which encompasses all styles, not just the ones that match current fashion or are in keeping with the look of the artist behind it. The past was great but we have been there and done that, and thanks to artists such as Calazzus the future is looking like it is going to be even better.