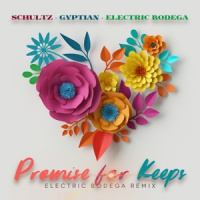 Matthew Schultz continues the momentum with a remix of the modern dance tune, " Promise For Keeps". Released worldwide through Musik Radio Promotions, the original version of Promise For Keeps has been very successful with almost 600,000 streams on Spotify already, reaching #21 on the iTunes UK Dance Charts, Top 100 on Beatport, #18 on Music Week Club Charts and is currently trending on various Spotify playlists. It now has over 3.5 million plays on Soundcloud for all remixes!
 This latest remix is by Electric Bodega, a DJ/Production duo from Staen Island, New York, Mike Cash and DJ Klutch. They have done remixes for Drake, Jay Z, Justin Bieber, Konshens and Avicii and their original material has hit over a million streams on Spotify, with their last two remixes reaching over 7 million streams.his remix of "Promise For Keeps".
Featuring the Jamaican reggae singer Gyptian, who is very successful in his own right. He has been having hits in the Jamaican charts since 2005 and had crossover success in 2010 when his song Hold Yuh reached 91 in the Billboard Hot 100, followed by an album of the same name which reached number 2 in the Billboard Reggae charts. Hold Yuh went on to become a chart hit worldwide. The track contains vocals from both Gyptian and Matthew Sachultz, with the original song given a radical musical transformation. Keeping the essential melody, the music is given a dancehall, regge-fusion vibe in the vein of Major Lazer, Tory Lanez and Partynextdoor. It has been produced to a very high standard by Schultz himself and Johnny Thomas Jr.