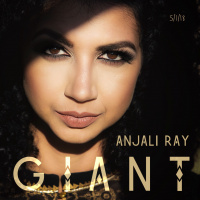 Musik Radio Promotions recent release of the title song on Anjali Ray's EP, "Giant" saw it mushroom into thousands of downloads around the world including the BBC.  Anjali Ray's long-anticipated 2nd EP, has seemed to hit a resonating chord as her music celebrates activism and feminism in the world today.
In 2016, Anjali found herself "overcome by feelings of shock and eventual numbness. "As Anjali found her mind, "numb", she found her feet leading her to the Women's March in LA, where she and thousands of others, found her "roar". And as Anjali says, she " found a new place for my fingertips," as she began writing frantically and urgently.
As Anjali describes it, "The result is a love song, written and dedicated to the women who march for their rights, the kids who march for their safety, those that courageously share their story, and to all who feel strongly that everyone has a right to be safe and be heard".
This is pop with a lot of heart and an endless amount of soul, wonderfully unhurried and wrapped in classical trappings and sensual, sweeping string arrangements and a vocal that is simultaneously timeless jazz diva and latest chart sensation. That's a lot to fit in yet her songs so elegantly and sparingly, one element leaving enough room that the other can work its magic.  Anjali Ray's sultry, piano-driven pop grooves echo Sarah McLachlan, Sade, and Sara Bareilles, with Indian instrumental and vocal touches showcasing her global influences.
If pop music is normally built on drive and energy, then this sits somewhere else on the spectrum relying on sensuality and a wonderfully languid delivery for its lulling and tasteful nature. Whilst the ambient feel of the instrumentation on songs such as "Giant" and "Illicit" cause you to focus on Anjali's voice, second and third plays reveal just how much is going on behind her through sparing, well-chosen and impactful musical details. Low key songs they may be, but rather than just serve the purpose of being sultry mood music, they linger in the air long after it has hit its final note due to some clever choices and extremely well crafted sonic design.
Even when she is delivering more usual pop orientated, upbeat numbers there is a grace and understated majesty at the heart of the songs, "Marionette" is a wonderfully slow-burning number built on distant rock guitars and tabla drum beats which underline the cultural, generic and geographic borders that her music crosses at will. "Different Side of Me" will prove to be the song that turns the pop fans on to her music, but it will be the sheer elegance and eloquence of her more subtle and supple songs which will hold them spellbound.
Anjali describes herself as a "liberal feminist." She encourages everyone, "Do not be quiet. Keep your voices raised, and the kitchen sink handy."
"I cannot describe how amazing it was to hear myself on the radio for the first time through Musik Radio Promotions,  I am so grateful for this opportunity," Anjali says. On the contrary, Musik and Film Records is grateful to Anjali for being a part of this "Giant" movement overtaking the world.
Read Anjali's complete story here.
Photography by Bruno O'hara