Madlyn was recently named as DRT Breakout Artist of 2015!
Independent artist Madlyn, has been enamored with the music world for as long as she can remember. Growing up in an artistic family and performing since the age of 3, there has never been a question in her mind that she wanted to be a musician. After tragically losing her mother to breast cancer, she devoted herself to songwriting and pop music full time. She took the name "MadLyn" to carry on her mother's memory, dropping the "e"  from her mother's spelling for artistic value.
MadLyn has not only performed music, but was cast in a feature film as well, titled "Elena Undone" going on to even write and record the track "Suddenly" which was featured in the film and on the soundtrack. After a few years of honing her skills, MadLyn has gone on to co-write with some of the industry's most prestigious songwriters and even write songs for other artists, like European pop sensation Suzanna Lubrano. She recorded the title track to the fim "Wheels", and has done backup vocals for bands like Youngblood Hawke, and Thirty Seconds to Mars.
As if all of this wasn't enough to keep her busy, MadLyn is the creator & host of the ongoing breast cancer fundraising music event, "The Siren Song" in honor of her mother. "The Siren Song" had a bi-monthly residency at "The WitZend" in Venice Beach, CA for a year, and has since expanded into other arenas, building a very close and enriching artistic community.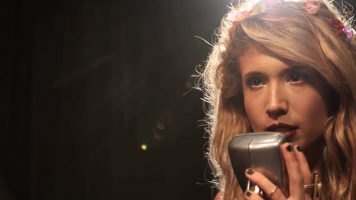 MadLyn has teamed up with Musik Radio Promotions for a worldwide marketing campaign. On February 17th 2015, MadLyn released her first official music video and single, "Kiss Me Goodbye." Within the first month of "Kiss Me Goodbye's" release, the music video on YouTube reached over 100,000 views, gaining popularity amongst twitter, Facebook, and other social media platforms. On March 21st 2015, the single reached its way to #1 on the National Airplay Top 50 Independent Radio Chart, and since then reached its way to #10 on the National Airplay Top 50 Rock Chart. On May 8th 2015 MadLyn released her 2nd single and official music video "If You Were Mine" in honor of her mother's birthday. Within it's first week of release, "If You Were Mine" accumulated over 24,000 views on YouTube.
Musik and Film had a chance to sit down with the talented artist for an interview:
If you could make 1 change to the music industry, what would it be?
I would want to find a way for artists all across the board to be better compensated for their art and improve the way songs are currently purchased.
What do you want to always be remembered for?
I want to be remembered for being a strong role model, empowering people to amplify their individualism and to always dream big, regardless of how ridiculous it may seem to others.
Besides music, what are 3 of your favorite things?
Coffee, Fashion, Exotic Foods. (But this list is pretty much endless :))
What has your experience been like working with Musik and Film?​
Working with Musik & Film Radio Promotions has been glorious. Because of built-in relationships with thousands of radio stations worldwide, it has enabled me to chart both nationally and internationally amongst major label artists.
What made you want to pursue a career in music?
There has never been a moment in my life in which I've questioned my desire to sing, write songs, and overall entertain. I started out performing in musical theater productions when I was six years old, and I remember telling my parents after opening night of "Annie," that I wanted to do this forever. That desire has morphed into different artistic endeavors over the years, but at it's core, it hasn't changed. I think what drives me the most is knowing what an important role music plays in all of our lives. Most of our journeys through life can be associated with songs that had an important meaning to us during a specific time period. I will always strive to create music that makes people feel something, so that they may continue to add new memories to their soundtrack of life.
Do you play any instruments?
I play piano:)
What advice would you give to a music artist who is just starting out?
To really meditate on their true reasons for wanting to do this, and to always stay authentic to themselves regardless of what offers may come their way. To be a sponge when it comes to learning the craft. Understanding music theory, playing instruments, writing songs, singing, having a basic understanding of recording, social media interaction, & performing live as often as possible are all crucial things for being a well-rounded musician and artist. I would also want to remind a new artist that patience is a virtue. Things may not happen as quickly as you expect or want them to, so rather than stressing, have patience and enjoy the journey. These are all moments of life to be cherished because there isn't a finish line. We should always be evolving and growing. I would also say it's crucial to surround yourself with like-minded individuals who are driven, and can act as your support system. Find your artistic community and grow together within that.
How would you describe your music?
The moods may range from dreamy to quirky, fun to introspective, touching to up-lifting. At it's core, my music is piano-based singer/songwriter pop with a little classic rock and slight jazz influences layered underneath. 🙂
What are your goals, where do you want to take your music, & where do you see yourself in the next 5 years?
My goal is to be able to have the freedom to create music for the rest of my life. In the next five years, I see my music being placed in movies and tv shows, charting internationally, and having the opportunity to tour the globe, sharing my songs with people from all walks of life.  
What has been your best and worst moments during your career so far?
I've had some pretty amazing opportunities to create music with a few of my songwriting idols, including Billy Sternberg & Ken Hirsch, as well as record & perform with bands I love like "Thirty Seconds to Mars" on Jimmy Kimmel. One of my favorite moments was recording the title track for an indie film by the name of, "Wheels" with a live orchestra at Capitol Records. It was extra special because I was in the same recording booth that Frank Sinatra used during his recording days. On the other side of that coin, I believe we can all appreciate our good moments more because of our bad ones. I've definitely had my fair share of discouraging moments in my career, whether that be from taking the wrong deal, to being screwed over by various industry people, to being approached for the wrong reasons. But I can honestly say all of those bad moments were important for me to experience and learn from, and I wouldn't have it any other way. 
If you had the chance for the world to hear one song what would it be?
I haven't released it yet, but I would really like for the world to hear the song I wrote for my mom, "That Was Madelyn." She passed away from breast cancer when I was thirteen, and the song is a really touching love letter to her in heaven. When the right time comes for that song to be released into the world, people will get a true sense of how special my mom was, the great bond that we had, and why it means so much to me to honor her memory.
Anything else you want to say?
I'd like to say thank you to everyone who has supported me on this journey by coming to live shows, sharing the music, purchasing my song, watching the music video, and subscribing to my YouTube channel. Every little bit helps tremendously and I couldn't do this without that love and constant support!