The  Mona Lisa Twins debuted at #1 in the UK and #20 globally on the ECMA Charts.  Musik Radio Promotions began a global campaign of their single, The Wide Wide Land, and immediately began receiving an enormous amount of airplay.
The MonaLisa Twins, with 19 year old twin girls named Mona and Lisa being the core of the band, are one of the very few modern groups who write original songs in the 60's Beat music tradition, reviving the genre with a fresh twist without sounding pop-ish or trivial. On their debut album "When We're Together" (2012) they present finest Rock 'n' Roll and Beat music, skillfully venturing out in Psychedelic, Folk and even Latin genres, inspired by the likes of The Beatles, Bob Dylan and Simon & Garfunkel.
Their signature features are polyphonic harmonies and a wiry, bright guitar sound. The even mix of fun and depth in their music and lyrics brings back the spirit of this time and therefore speaks to a wide range of international audiences, especially on the Anglo-American music markets. They've already played lots of live-shows, and their high quality music videos have garnered a total of over 2 million views and thousands of subscribers on YouTube and Facebook so far.
The Mona Lisa Twins have received amazing reviews:
"The likes of Bob Dylan or Sir Paul McCartney wouldn't turn down performing one of these songs"
Music News
"These girls have some great things ahead of them if this is what they are capable of at 19. The Next Big Thing? The Mona Lisa Twins"
Soletron
"I was pretty shocked after hearing the guitar playing on their album "When We're Together" that these two cute Austrian girls are only 19. The guitar work is more intricate than what was on the radio during the sixties. Their strength is their songwriting, their voices are never over emote and stay honest in their inflections."
Hiplanta Music Blog
"The MonaLisa Twins are bringing back the POP in pop. They present pop the way it used to be: sweet, harmonic, with easy breezy lyrics that are impossibly catchy. The two have managed to capture the essence of what art is and what it means to people."
Celebrity VIP Lounge
"Big things could be on the horizon for the MonaLisa Twins, because at 19, they are already accomplished musicians and have a firm direction for their music. Harmonies seem to come natural to them and if they continue to write slick, catchy pop songs that you can tap your feet to, then there's no reason why they can't keep the sound of the 60s alive for a good time to come."
What Culture
Their signature features are polyphonic harmonies and a wiry, bright guitar so MonaLisa Twins – Press Quotes
"The likes of Bob Dylan or Sir Paul McCartney wouldn't turn down performing one of these songs"
Music News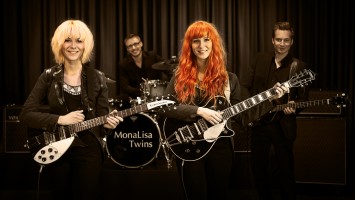 )