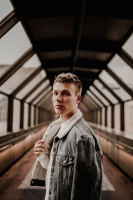 Musik Radio Promotions (MRP) present Luckie Boy's debut single to worldwide airplay.  "Cry Myself to Sleep"  has been in the top 5 for 8 weeks world charts!
Considering that this is Luckie Boy's first worldwide radio release, he's kicked things off in a fairly strong way. Co-written with award-winning songwriter Thornton Cline, Cry Myself To Sleep is the sort of pop record which is built to last. "I am honored that this young talented artist loved the song we wrote and chose to record it as his first single," said Nashville hit songwriter, Thornton Cline. 
Slower paced, emotively fueled, understated and instantly memorable, in a world of throwaway, saccharine pop, this is something marked out for bigger things, this is something with real longevity. In fact, it feels as if pop is too small a word for it.

Mixing suitably dreamy, hushed and hazy harmonies, confident beats and poignant poeticism, and dripping with longing and loneliness, this is the sound of lying awake at three in the morning with your mind doing somersaults and not being able to get the image of a loved one out of your head.
Luckie Boy hails from a small town in Indiana and is a graduate of an audio engineering school in 2018 in Nashville. He has recorded and produced tracks since he was 14 years old when his mother gave him an Apple Mac Pro book. Luckie Boy met hit songwriter, Thornton Cline in Nashville and the two of them began collaborating. Their collaboration resulted in an up tempo pop song they both loved and thought was commercial enough to be produced and recorded. Nashville producer, Levi Bennington recorded and produced the single.

"Cry Myself to Sleep" is so powerful because it is so relatable. Whereas many pop artist's talk about trivial and often childish things, Luckie Boy's nocturnal anthem is applicable to the love-lorn teen and the more mature listener alike. When pop songs feel like the soundtrack to young lives they can be popular and powerful forces indeed. When everyone can relate to them they are unstoppable.