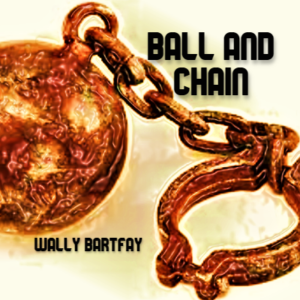 Listen to Wally Bartfay's newest " KICK A" country song, "Ball and Chain". Produced in Nashville by Musik and Film's, Stephen Wrench and Wayne Killius.
"Ball and Chain" tells the story of being in a controlling relationship with double standards and lies when it comes to love and the realization that's it's time to break free and move on with one's life. It's a song that gets you pumped up, ready to sing along at the top of your lungs. It's a high-energy, foot-stomping anthem.
Bartfay's voice carries a sense of grit and character, reflecting his real-life experiences and storytelling nature of country music.  The twang of an electric guitar takes center stage, delivering catchy riffs and melodic solos that are both energetic and soulful. The drums provide a driving rhythm with a steady beat, often incorporating snappy snare hits and energetic cymbal crashes. The bass guitar adds a solid foundation, delivering a pulsating groove that keeps the song grounded. Bartfay sings with a voice that makes you want to sing along and feel every word, capturing the essence of the country spirit.
Dr. Wally Bartfay is currently a Professor and former Associate Dean for the Faculty of Health Sciences at Ontario Tech University in Oshawa, Ontario, Canada.  He is also affectionately known as the "Rock N' Prof" by his students, because he often plays original songs that he has written prior to the commence of lectures to create certain vibes and buzzes in his classes. He was featured in the Ontario Tech University May Issue.
His music has appeared on Euro Indie Music Chart lists top 10 and World Indie Music Chart lists top 15, and BWNR music list top 5. His music has also been featured on Indie Network (Episode 130 April 29, 2023).
He has also conducted research related to the benefits of music therapy with patients with Alzheimer's disease and other forms of dementia, which started because his father also suffered from vascular dementia and music helped him recall memories.
Ever since Wally was a little lad, he wanted to play the electric guitar and make music that creates smiles on people's faces. He can remember playing his imaginary electric "air guitar" in his parents basement to various rock and country songs for hours on end. He got his first guitar when he turned 14 after taking on various odds jobs including pumping gas on weekends and cutting lawns.  He quickly learned to play it on his very own, along with several other instruments.
Wally has been interviewed on NBRN Radio in Nashville, Tennessee's show, "Playin' on Music Row with Fran" as a new emerging country-rock songwriter and artist (February 01, 2023), where he describes his musical journey and influences.
Bartfay is passionate about song writing and his songs often reflect personal experiences and challenges that he has faced over the years. Hence, Wally argues that "music is medicine for one's heart, mind and soul" and it has healing properties that we are only beginning to understand.
"Ball and Chain" is now being heard round' the world being promoted by Musik Radio Promotions.