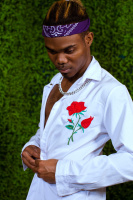 ALLOCAI # 21 IN THE NATION!!! / TOP 40 INDIE CHART / MEDIABASE
ALLOCAI # 11 IN THE NATION / INDIE RHYTHMIC CHART / MEDIABASE
Musik Radio Promotions presents "Allocai" to listeners around the world.  His multifaceted alternative singer/songwriter style has captured millions of fans.
2019 has been a great year for hybrid indie artists across the board, but if you've been in the mood for something a little further to the left of the basic "alternative" sound, Allocai's "Cloud9" is a tough release to trump. We'll know more about his sonic depth once his first LP hits record stores in the near future, but until then, this is an excellent way for the world to get introduced to his sound, and explicitly, his multifaceted capabilities as a songwriter, singer and purveyor of passion.
My Main" and "Hush", Allocai is following up with the release of his debut LP, "Cruelty", slated to be released on April 3, 2020. The three very different singles, each released only one month apart, garnered much attention but the biggest headline of his career thus far has been the "Cloud9" music video which was released in October 2019 and racked up 1.5 million views on YouTube to date.
Inevitably this resulted in a dedicated following for the artist in a short period of time, eager to hear what comes next with the release of his album. Due to his profound unwillingness to stay in any one lane, Allocai manages to create a unique sound that extends beyond most predefined genres of music.
A pulsating melody is where we begin with Allocai's new single, "Cloud9," but its soft, underscored depth of tonality deceptively leads us into thinking that the next three and a half minutes won't be as exciting and thrill-filled as they actually will be. It isn't long before Allocai himself comes swinging into the track with a velvety verse that cuts through the instrumentation and instantly pulls all of our focus towards its tender nucleus. We're not even a third of the way through this song, and already we're trapped by an effervescent harmony that is slowly but surely taking hold of our hearts. The drums crash into each other in the background, lighting up the bottom of the mix like lightning on an otherwise dark and deserted plain
His core sound is Pop, but always twisted and mashed with different genres to evoke particular emotions in listeners. This signature style of mixing diverse genres is prominent on the album which chronicles the ordeal he went through with his father. By empathizing the experience to listeners through emotional appeal rather than a banal narration, Allocai takes listeners on a fervent rollercoaster with each song representing a particular feeling he experienced on his road to recovery.
Everything about this artist is highly crafted. His stylized appearance, complex sound and enthralling dance moves are all elements that play into his insatiable need to own his difference and be true to his originality.