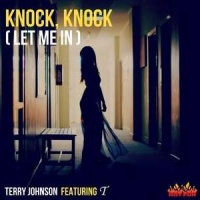 Terry 'Buzzy' Johnson has had many hits in the past with The Flamingos. But after a lengthy career he is doing it again. Creating hits and aggressively promoting his music worldwide with Musik Radio Promotions, Knock, Knock (let me in) featuring T,  stayed at # 1 in Europe for many weeks and stayed on the top 10 for 12 weeks. Ooo Ya Wit ,featuring Starling Newsome, now is following suit. Terry did not use his fame as The Flamingos but used his talent as an artist to write and create great songs.
If Team Johnson is a project that sees a fluid wave of collaborators and co-writers move in and out of its creative circle, the man at the centre of it all is certainly well established. Johnson is best known for creating the unique harmony sound that made The Flamingos famous and then later as a co-writer with Smokey Robinson at Motown Records. Today that wealth of experience is used to pull together new pools of talent and create cutting edge R&B based hits.
Tracks such as Knock Knock (Let Me In) and Ooo Ya Wit mix modern dance grooves with vibrant reggae infusions, they are built with pop infectiousness and, as you might expect given Johnson's history, a particular attention to detail when it comes to the vocal treatments.  Johnson's voice is a classic and soulful lead vocal that resonates with tradition whilst pushing the genre into a glorious and bright future.
Pollstar recently wrote, "Rock and Roll Hall of Fame member Johnson, who worked at Motown during the 1960s where he co-wrote several songs with Smokey Robinson including The Miracles hits, "Baby, Baby Don't Cry," "I Don't Blame You At All" and "Here I Go Again," has always kept in touch with the varied stylings inhabiting popular music.  The results are recordings that sound as fresh as anything receiving heavy rotation on today's radio stations."
Terry feels he is fulfilling his mission, "GOD is still on the move! New fans from all over the world have been writing me and encouraging me to keep cranking out the hits. Music is my passion. Thanks from the bottom of my heart to those who are supporting my music."
It seems that you could stick a pin in the history book of "Buzzy" Johnson's creative life and you will find them making glorious records and successful hits and today that is as true as it ever was.