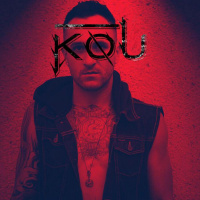 The new project from Jon Wilkes formerly from The Red Jumpsuit Apparatus, KOU's,  "Time is the Enemy" has been released worldwide by Musik Radio Promotions. KOU is touring the US with "Time is the Enemy" charting worldwide on the top 10 Euro Indie Music Charts.
As a member of alt-rockers The Red Jumpsuit Apparatus, Jon Wilkes was part of a legacy of original, platinum selling music, music which explored new sonic areas and helped define what rock music could be in the 21st century. Now under the name KOU he takes that already exploratory musical mind and delves even further into his own musical potential.
KOU is a new project for a new era, a musical journey that does away with genres and expectations, tradition and convention and instead builds truly monumental music from a whole range of musical styles which aren't often blended together and if they are, rarely this well. Time is The Enemy takes rock drive, electronic fluidity, pop infectiousness and some sky scrapping vocals and blends them together to build massive, cinematic soundscapes.
As KOU knows so well, it is all about the textures, about blending subtle and supple layers of music, of dovetailing often mutually exclusive music with each other to create something that is robust and powerful yet sleek and sophisticated. Some will hear rock music, others pop, some electronica, others still will mark this down as an intense pop experience, but at this point it is probably best that we look beyond pigeon-holes and labels and realise that he has done nothing less than create a whole new attitude to making music.
Time Is The Enemy combines the conventional wisdom of song structure with the left field thinking that we have come to expect from the former RJA drummer, commercial enough to be popular, cultish enough to be cool a track that is able to run from gentleness and grace to the explosive and the energised. It looks like the future is in safe hands.