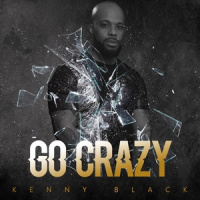 M&F Radio Promotions gave way to Kenny Black with single, "Go Crazy" becoming hit song played around the world. Now Kenny has been nominated for Grammy.
Lending smooth vocals to an infectious fusion of R&B, gospel, pop, hip-hop, classical soul and country, Kenny Black Jr. continues to prove that there are no boundaries to his talents. Self-proclaimed as the "Music Machine", Kenny Black's versatility and golden ear allows his talents to cross ALL music genres. As a gifted song writer, singer, and producer, he greets the industry as a triple threat.  At the age of 3 he picked up his first set of drum sticks. By age of 15 this self-taught musician began to master drums, percussion, organ and the piano. "I wanted to make music all of my life. I used to sneak away to play with my uncle's equipment," he recalls. "My grandfather played the guitar and my uncle was a DJ. There's something about making music that drives me." The son of pastor, Apostle Kenny and Evelyn Black of Living Water Ministries, Kenny's respect for the art of soulful music can be traced to his childhood, singing and performing in the church. His natural, raw melodic and instrument playing skills would be honed while attending a performing arts high school.  Now married to his beautiful wife Shenika Black and the father of four boys is Kenny Black "The Music Machine" is a musician at heart and building an empire.  He writes his own songs, produces and arranges his own music, and will humbly state that he's just sharing his god-given talents. And sharing he does.  His talents have graced the works of various artists including: Shyne (Bad Boy), Lil' Wayne, Pam Long (Bad Boy recording artists TOTAL), Jaheim (2007) and "I pride myself is creating music that compliments and accompanies an artist's, not over power it." "Kenny Black" founded "Delray Music Group" in honor of his cousin Shawn (DelRay)  Searight and his personal vision to create great music. With Shawn's untimely death, Black felt that the baton was passed to him to continue the pursuit of impacting the music industry. In 2014 Kenny also brokered a deal with YouTube networkers to have his own youtube channel called "Delray Tv" where he gives his fans and audience an inside look on" Kenny Black" and the "Delray Music Group" family.  "Kenny Black" was the architect behind Desiree Coleman-Jackson's 2009 Gospel album; producing the entire project. His masterful sound also lead to the creation theme songs for Grammy Award winning, Hezekiah Walker's 'Afternoon Praise' that can be heard weekdays on WLIB 1190 as well as Hezekiah Walker's "Sunday Morning Celebration" and Liz Black's "Sunday Praise" .  Deep admiration for his Uncle Ron, a DJ who worked with pioneers like Grand Master Flash, and artists/producers like Joe, R.Kelly, Rodney Jerkins, Dr. Dre, The Winans, and Hezekiah Walker played a major role in shaping "Kenny" as an all-around musical talent. Kenny Black has performed at churches, various local venues, and was blessed to be selected as back-up drummer for "The Miseducation of Lauryn Hill" tour. 2011, his drumming skills and natural talents were again recognized while on tour with Faith Evans.  Kenny's contribution to Marvin Sapp's 2010 award winning album "Here I Am"  labeled him as a, Stellar, BET, Dove award winning Producer and Songwriter for the songs he wrote and produced titled "Wait" and "More than a Conqueror".
Good music is good music. If you feel in your heart, your music should reflect it," states Black. This is evident in his distinct blend of smooth sultry vocals and heartfelt lyrics with full bodied soulful, driven tracks.  Kenny's humbleness and praise to his gospel roots can be heard on a heartfelt, feel good song, "Do Me Like You" on Marvin Sapp's 2014 released album, I'm Still Standing.   In 2015 Kenny became the newest artist of the Valor Drumstick family, with a full drumstick endorsement. It is because of Kenny's unique style of drumming that stands him out from the rest. He (Kenny) couldn't be more humbly blessed to share this endorsement platform with other celebrity drummers. Currently you can find Kenny Black touring with R&B legends "Total", as the Drummer, Musical Director, and Programmer. Kenny proves that every stage that he is on, people gravitate to his likeable personality. So much so, people are screaming for him on stage just as much as they are screaming for Total.    It is endless to what "Kenny Black" aka "The Music Machine" can do.  He proves it each time his name and Talents are brought to the forefront.
In 2018 Kenny Black "The Music Machine"  received his first Grammy Nomination.
There is nothing Kenny Black can't do. Self-assured, yet down-to-earth, Kenny Black "The Music Machine", singer/songwriter/producer is taking on the world with his style, skills, and passion.