Behind the Scenes Of Professional Music Production In Nashville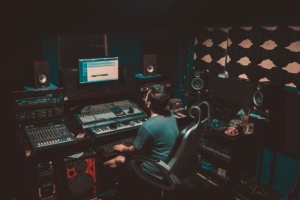 I've had the good fortune of having a career as a studio drummer in Nashville Tennessee for the past 30+ years. I have spent thousands of hours in music production sessions creating and recording music and making records. Here's a link to some of my credentials.
I know how it's done in Nashville, and here's the lowdown on the two top questions asked:
How much is music production going to cost?
To this question, I give the analogy: "How much does it cost to build a house?"
One cannot begin answering this question without further information such as, "What size do you want the home to be?", "Where is its location?", "What kind of building materials are needed?", etc. Without this information, a response of "$1 to one billion dollars" becomes an extreme, yet fair answer.
A builder's response is usually: "Well, what's your budget?
This exact logic applies to music production recording budgets.
With an end result in mind, knowing the budget allows strategic planning and best use scenarios for your money. I say this because people are often reluctant to give a figure out of fear of being taken or swindled in some fashion. I understand this, whether it's based on the many sordid stories of the music biz, or it's just good old fashion negotiation know-how. At the same time, I find the more trust an artist has in their producer the more they benefit from the producer's experience, which assures the best allocation of the funds for achieving the desired results.
Inform yourself on the producers track record. Being trustworthy and having a good reputation is essential in the music biz. In many ways Nashville is still a small town, and word spreads quickly when bad actors do appear, and fortunately those who do don't last for long. So working with folks who have been in the biz for many years is the safest bet.
So what information is needed to determine recording costs? Here are several important areas:
Pre-production Costs – Pre-production = Preparation. Usually built into to the overall budget, the advantages of pre-production are obvious. Anything that can be determined prior to the recording session saves time and money. Some examples are:
Explore arrangements
Determine key signatures and tempos
Chart the songs
Choose musical references for the songs
Determine the workload and schedule the team
Ask any and all questions – The musicians and engineers will have no idea what they'll be asked to do until the session starts. Any questions or concerns you have about the process can and should be addressed and answered prior to downbeat.
How many songs to record? – Determined by the artist and music producer. The budget/time allotted or speed at which music production is done can vary greatly depending on several factors, including the complexity of the songs, the number of musicians involved, the recording setup, and the recording process itself. In the studio, time is money, and this is where a good producer can be invaluable overseeing time vs cost vs results. A pro Nashville team is a well-oiled machine and can deliver results quickly, though a more relaxed pace allows for more experimentation and flexibility.
Studio Rental – Hourly rates or day rates
Musicians – Typically paid in 3hr blocks of time. Booking studio musicians in Nashville has traditionally been on a per hour cost basis. Whether or not a recording session is filed with the local musicians union, the unions scale rates are used as a benchmark for musician wages and generally serve as reference points for such.
Engineers – Hourly rates or day rates
What's The Recording Process Like?
The next step is the actual recording process. Here is a rundown of how that works:
Tracking Session
This is the actual recording of the instrumental tracks, which again is typically done in 3-hour time slots. The artist is encouraged to sing a "scratch" vocal while recording, which is a throw away vocal for the musicians to perform around and hear how the melody fits into the arrangement as they track their parts.
Very important – A song is worth a thousand words.
The quicker and more efficiently the artist and producer can communicate to the musicians and engineers the exact sound and vibe they are after, the more time there will be for capturing that lightning in a bottle. Time is money in the studio, and this is where pre-production really pays off. Having musical references on hand for the team to hear can alleviate multiple time killers and avoid frustration for everyone involved.
Trust the team and encourage experimentation. If you know the exact parts you want, not a problem, these can be charted out in pre-production and the team will deliver. But I always emphasize for artists to remain open to any  suggestions offered, and to tap into the deep well of ideas the teams experience can offer – you will almost always be pleasantly surprised.
Recording Vocals
The keeper vocals are recorded. Background vocals are added if desired.
Editing
The music and vocals are edited and/or tuned.
Mixing
The tracks are mixed and approved by the artist and producer.
Mastering
The tracks are mastered and approved by the artist and producer.
And that's it! Now the next step is to get it out to the world. Here at Musik and Film we have the right people, experience, and resources to help you get your music professionally produced music heard all over the world.
Interested in Musik and Film's professional music production services? Contact us today at productions@musikandfilm.com or use our contact form to get started. 
About The Author
Originally from Syracuse NY, Wayne Killius's career as a recording session drummer began in the mid '90s in Nashville TN. Over the years his discography includes playing on Billboard #1 songs and 1 albums and recording 1000's of songs with artists such as Luke Bryan, Lady Gaga, Blake Shelton, Lady A, Chris Stapleton, Keith Urban, Steve Winwood, Toby Keith, Kenny Rogers, and Lyle Lovett, Leon Russell, and countless hit songwriters. His studio experience led him into music production, along with artist development and artist promotion.