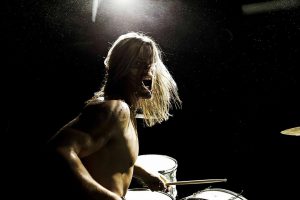 Deep from the Swedish midlands Valleys a new genre of music developed. It´s a unique crossover between Hard Rock and Country.  It resembles a meeting of bands like Foo Fighters, Entombed and Lynyrd Skynyrd jamming with artists like Bill Monroe and Flatts n' Scruggs.
This new genre is called Swedish Country and the pioneer is life long musician David Park.
David originally grown up on a farm in the small village called Djura, outside the hockey town Leksand. The influence of working on the fields, driving tractors from early age and helping out handling the cattle has inspired to come up with titles like David Brown and Hardcore Trucking. The farming chores were alternated with long sessions of Heavy Metal drumming, playing along to Iron Maidens Nick McBrain and Slayers Dave Lombardo.
In his teens, David and his family moved to Japan for a three year stint at the Swedish School on the Japanese country side, where his parents worked as teachers. This quite unusual life experience had a profound effect on developing this special sound and style.
The Japanese town planning forced him to develop his guitar skills, since it´s impossible for a Heavy Metal drummer to practice his double bass drums without seriously challenging his neighbors.
The music on this album has evolved over a long time but kick started when David wanted to develop the Billy Gibbons play style, using finger picks while playing groovy riffs.
At a Magical Meeting with a Deeringer Banjo in a music store the unique crossover sound was about to take shape.
David has been a musician all his life, playing various instruments with different bands such as Drums with Borlänge glam rockers Space Age Baby Jane, guitar with the Racing rock band Jug McKenzie and even his Industry Electro Pop sister Karin Park. However its in this project he is showing his true self fronting the band handling the Banjo and Lead Vocals.
This is a Great band an a mindblowing live act where David is backed up by no others then Dan McKenzie (ex-Mustash), super guitarists Conrad Boqvist and Magnus Josefsson, and by Martin Willhelmsson on upright bass.